The PMI-DASLM is for practitioners who are focused on learning and applying the DA approach in leading teams.
As a team leader, you strive to be more agile and help your team be more productive.
To succeed, you need an agile mindset, combined with leadership and team management skills. At the same time need to do so within the context of your organization and its culture. The new Disciplined Agile Lean Scrum Master (DALSM) training and certification provide tools and strategies to help you lead an agile team, influence people, and remove impediments. Using real-world agile strategies, you will learn how to tailor your team's Way of Working (WoW) to optimize productivity and continuously improve.
Upon completion of this workshop, you will be prepared to become DALSM certified.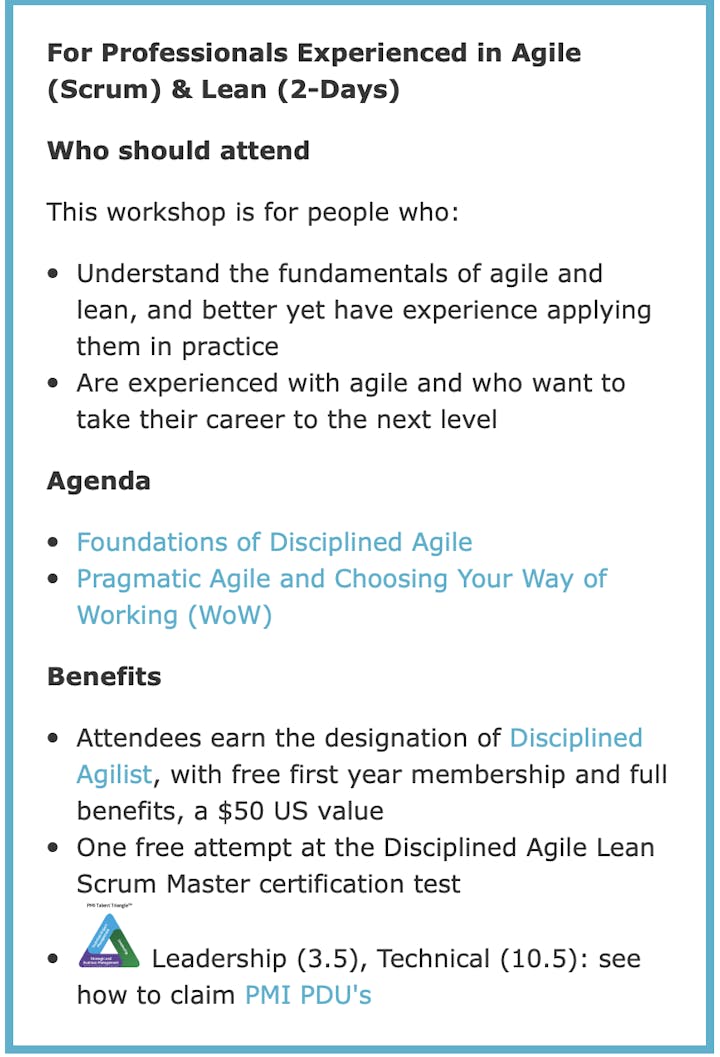 Course outline:
Foundations of Disciplined Agile
1. The Disciplined Agile Mindset
a. The seven principles of DA
b. The Disciplined Agile Manifesto
2. Overview
a. Layers of organizational agility
b. Lifecycles – Team and value stream (DA FLEX)
c. Goal diagrams – How to read and how to use
d. Complex adaptive systems
3. People and Teams
a. Roles and responsibilities
b. Team structures
4. Team Agility
a. Disciplined Agile Delivery (DAD)
b. Agile business teams
c. Agile service teams
5. Organizational agility
a. Disciplined DevOps
b. Disciplined Agile IT (DAIT)
c. Disciplined Agile Enterprise (DAE)
d. Disciplined Agile FLEX
6. Lean Governance
Pragmatic Agile and Choosing Your Way of Working (WoW)
1. Pragmatic Agile
a. Looking beyond your agile team: organizations, regulations, customers, and other demands
b. Strategies for financial tracking and reporting that support business agility
c. Career management and reward strategies
d. Addressing risk on agile teams
e. What are guardrails and how do you leverage them for your team?
f. Measure what matters
2. Choosing Your Way of Working (WoW)
a. What is the context faced by your team?
b. Choosing the best-fit lifecycle
c. Understanding, selecting, and applying process goals in your team's context
d. Laying out your team's initial way of working (WoW)
e. Disciplined retrospectives and Guided Continuous Improvement (GCI)
Workshop Logistics
Topics:
Primary:Agile
Secondary: Disciplined agile, scrum master, lean, fundamentals, Kanban
Level: Intermediate (Practitioner of Agile with Scrum, Lean or SAFe)
Length: Two days depending on your background – 14 hours of classroom time plus breaks
We reserve the right to change date, venue or cancel event in case of unforseen circumstances or small number of attendees. We will provide full refunds in case of event cancellations or date changes.
Tickets are non-refundable however they are fully transferable to another person.